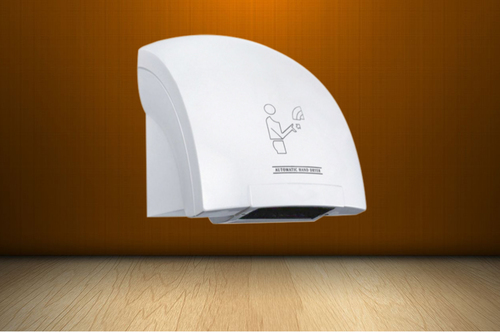 Automatic Hand Dryers
Product Description
HAND DRYER

Since our establishment in the industry, we are offering our customers a wide range of products by manufacturing and supplying a fine array of Automatic Hand Dryers. These dryers are used in washrooms of shopping malls, hotels, offices and residences for drying hands after washing. Our dryers are made using high grade materials, sourced from the leading vendors of the industry. We offer our Automatic Hand Dryers at industry leading prices to our clients.
Key Features:
Non corrosive
Low power consumption
Efficient operation
Further Details:

(Dehumidifiers WDE 60M)
The JET QUIK-DRY Hand Dryers incorporate the following unmatched features making it today's First Choice :
a. Lowest Drying Time
b. Specially Designed Induction Motor - Smooth Operation
c. Higher Air Velocity (Pressure)
d. Lower Noise Level
e. Sleek & Compact External Appearance.
Jet Quik - Dry Twin Blower Hand Drye
Features of Jet Quik - Dry Twin Blower Hand Dryers are as follows:
| | |
| --- | --- |
| Make | JET INDIA |
| Model | J-KOR B2 |
| Motor | INDUCTION TYPE - CONTINUOUS RATING |
| Dry Time | 20 - 25 SECS. |
| Noise Levels | LOW |
| Air Velocity | 8 MTR/SEC. |
| Operation | FULLY AUTOMATIC WITH SENSOR |
| Body | S.S 304 |
Jet Quik - Dry Twin Blower Hand Dryers
Features of Jet Quik - Dry Twin Blower Hand Dryer are as follows:
| | |
| --- | --- |
| Make | JET INDIA |
| Model | J-KOR B2 |
| Motor | INDUCTION TYPE - CONTINUOUS RATING |
| Dry Time | 20 - 25 SECS. |
| Noise Levels | LOW |
| Air Velocity | 8 MTR/SEC. |
| Operation | FULLY AUTOMATIC WITH SENSOR |
| Body | PLASTIC BODY |
Jet Quik - Dry Twin Blower Hand Dryers
Features of Jet Quik - Dry Twin Blower Hand Dryer are as follows:
| | |
| --- | --- |
| Make | JET INDIA |
| Model | J-KOR B2 |
| Motor | INDUCTION TYPE - CONTINUOUS RATING |
| Dry Time | 20 - 25 SECS. |
| Noise Levels | LOW |
| Air Velocity | 8 MTR/SEC. |
| Operation | FULLY AUTOMATIC WITH SENSOR |
| Body | PLASTIC BODY |
Jet Quik - Dry Twin Blower Hand Dryers
JET QUIK - DRY TWIN BLOWER HAND DRYER
| | |
| --- | --- |
| Make | JET INDIA |
| Model | J-KOR B3 |
| Motor | INDUCTION TYPE - CONTINUOUS RATING |
| Dry Time | 20 - 25 SECS. |
| Noise Levels | LOW |
| Air Velocity | 8 MTR/SEC. |
| Operation | FULLY AUTOMATIC WITH SENSOR |
| Body | PLASTIC BODY |
Contact Us
213, Allied Industrial Estate, Prof. Ram Panjwani Marg, Off MMC Road, Mahim (West), Mumbai, Maharashtra, 400016, India
Phone :91-22-43432323/2301/2302/2304/2308